This was my set for the Fulmen Records Showcase at HÖR Berlin, last Friday 17th of April 2020.
During the mix, I played some tracks from my new maxi-single «Orión y Casiopea», and also from my forthcoming album «Galaxias», to be released very soon on our house, Fulmen. Check it out! 👁

The showcase featured our regular Miguel De Palencia aka Traveller X from 7PM to 8PM, followed by me till 21:00 Uhr. Cherry on the creampie? Closing set by our saint, nuestra señora Aérea Negrot ❤️
THE PLAYLIST
01 El Fulminador – Casiopea (Original Mix)
02 Jin-Cromanyon – No.Mi.Su.Gi.Ta.Be.Su.Bi Over Dose (Raw Room Mix) [Cologne Underground Records]
03 El Fulminador – Orión (Disaster Version)
04 Sanfuentes – Heatwave (Silver Ligth Remix) [Sanfuentes Records]
05 Room 604 – Sleaze Factor [Dessous Recordings]
06 El Fulminador – Hydra [Soon on Fulmen Records]
07 Aérea Negrot – You're Mine (El Fulminador Dub) [Unreleased]
08 Hugg & Pepp – Snabeln [Dahlbäck Records]
09 El Fulminador – Perseo [Soon on Fulmen Records]
10 Win2Win – Battle Horse [Wrong Era]
11 El Fulminador – Casiopea (Vanity Version)
12 ALDA – Fly In The Darkness (El Fulminador Red Mix) [Dogs & Vultures Records]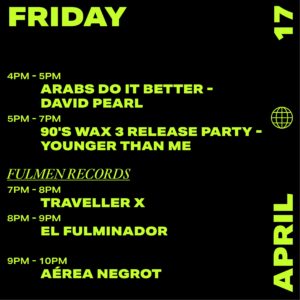 THE PHOTOSHOOTING
Just before the show, we run a photoshooting at the doors of Hör Berlin. Pics by Utopyk Jones and myself.
FOLLOW HÖR BERLIN
On FB: https://www.facebook.com/hoerberlin/
On IG: @hoer.berlin